Tammie Elkins, M.M.F.T.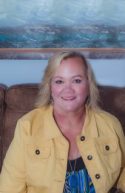 My name is Tammie Elkins and I look forward to serving you in any way I can.  I see children, teens, adults and couples.  My goal is to help you feel validated and understood.  I offer a safe, confidential and nonjudgmental environment that allows my clients to explore thoughts, emotions and challenges.
     In my free time, I like to spend time reading and traveling, doing things with my family and playing with my dogs.  I taught school for 20 years in Murfreesboro City Schools and this is a second career for me.  I have also raised two boys, so I like to think I understand the challenges of being a parent, wife and caregiver.
     I would be honored to work with your child, your family or just you as an individual.  I am level 1 and 2 trained in E.M.D.R. and would be happy to incorporate this method of therapy in a session.